1. KPI KEY PERFORMANCE INDICATORS
These are a company's digitized goals for the year. The KPIs are often displayed in Excel or in the system of indicators (Balanced Scorecard). 
What are the benefits of KPIs in Power BI: 
They consolidate the cash receipts and the margin from ERP, the sales from CRM, the indicators from any other systems, and the plans from Excel into one dashboard; 

They help control the achievement of the financial goals in real time; 

They show the comparison with the previous period and plan: Plan/Fact, YoY, Like4Like; 

They allow for financial modeling and scenario forecasting with reference to the influence of factors.
You might find this interesting: WHY DOES MY COMPANY NEED BUSINESS INTELLIGENCE?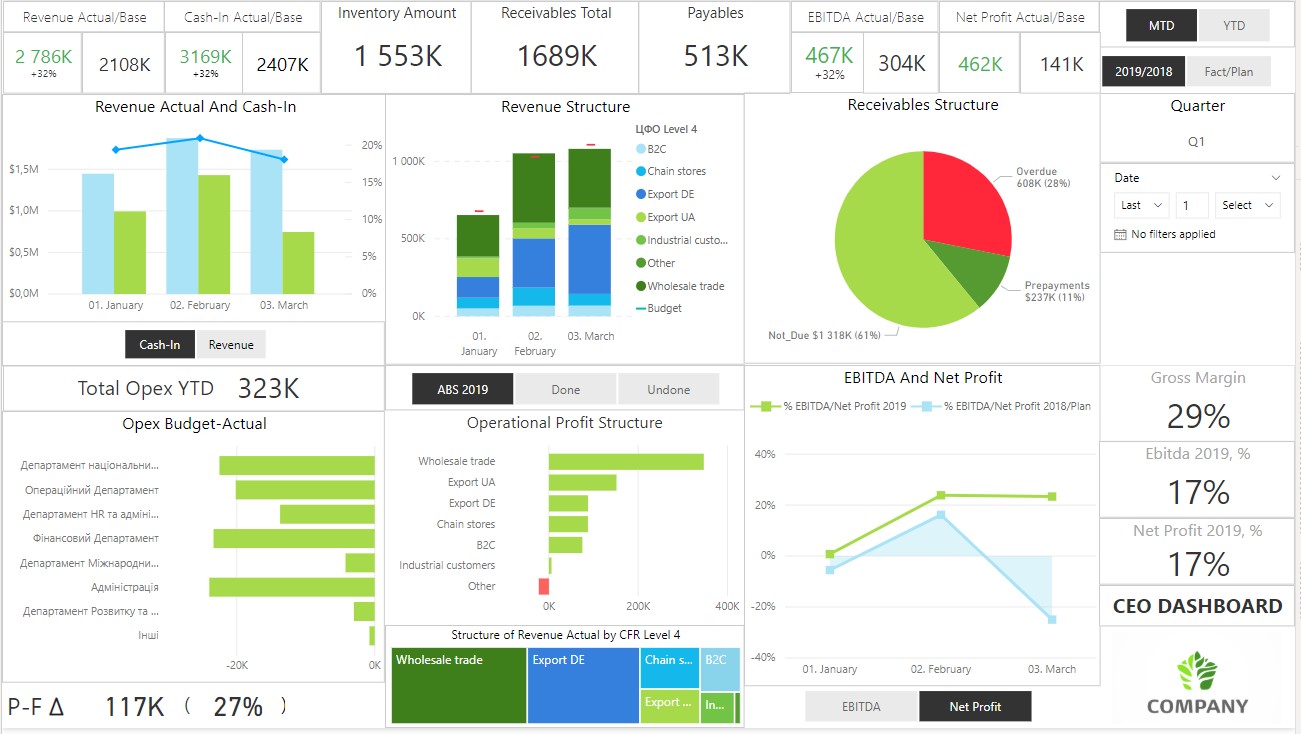 2. THE P&L: PROFIT AND LOSS POWER BI EXAMPLE REPORT
What are the benefits of P&L in Power BI: 
It demonstrates the growth or decline factors; 

It shows the cost reduction and profit increase points; 

It visualizes the diagrams of expenditure, marginal profit, revenue, and the dynamics for each of those broken down by day, month, and quarter; 

It helps control the actual or short-received profits on a day-to-day basis. 

It helps compare the indicators with the previous periods or budgets; 

It details every indicator, for example, to the counterparty and the particular accounts receivable period; 
Read more on real cases of BI system implementation in different industries on our: BLOG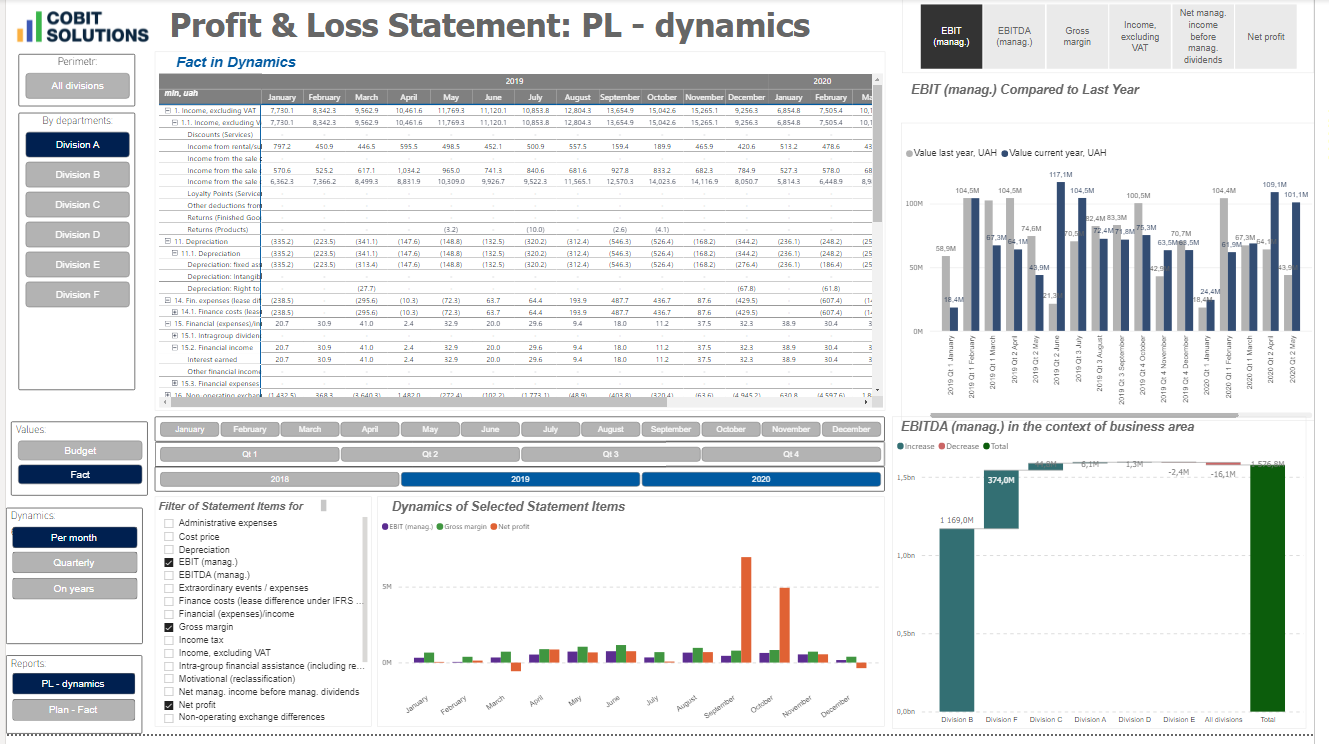 DOWNLOAD FREE CHECKLIST
of 25 recommendations for successful BI implementation
3. CASHFLOW: THE MOVEMENT OF FUNDS POWER BI EXAMPLE REPORT

What are the benefits of CashFlow in Power BI: 
It clearly illustrates the situation why the company finishes the year with a profit but with no money in its accounts; 

It shows the actual amount of money in the accounts

It divides the cash flow into the operational and investment flows

It offers the opportunity to fall through to every bank statement; 

It merges several report sources (ERP, OLAP cubes, Terrasoft) and displays the balance for all of them on one dashboard;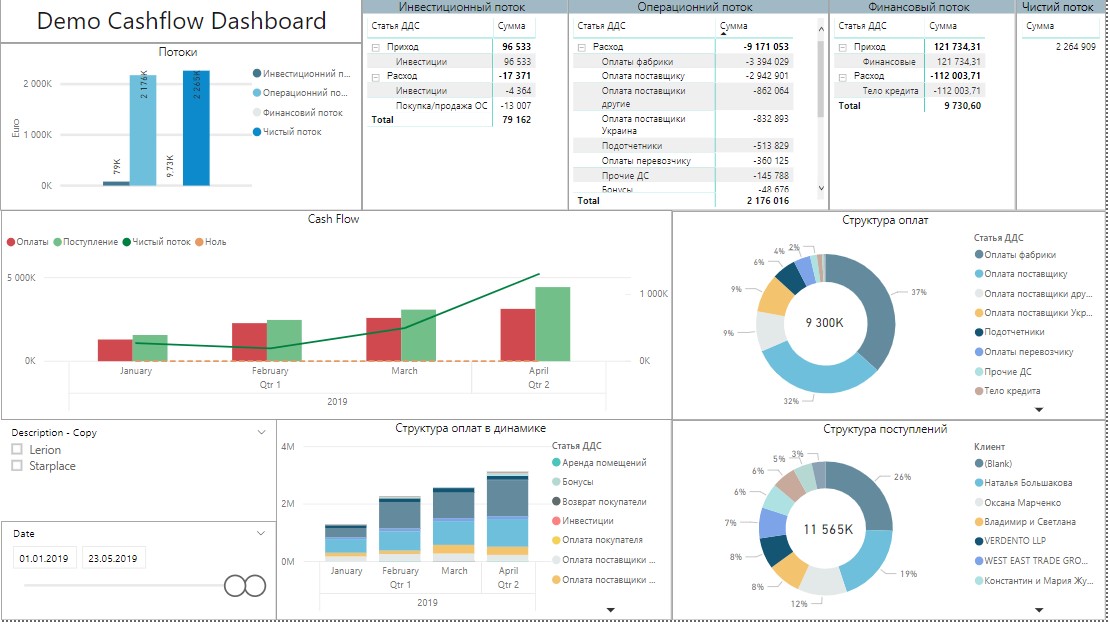 4. FACTORIAL ANALYSIS OF INCOME AND MARGINAL PROFIT
The dashboard shows how the sales in units, the price, the discounts, the dollar exchange rate, the production cost, the expenditures on marketing, distribution, logistics, and other factors influence the aggregate financial result. 
It enables the company to: 
Get an understanding of the factors' impact on the gross profit on a day-to-day basis.

Control the margin for different sales channels.

Keep track of the dynamics of sales and production cost.

Keep track of the dynamics of the factors.

Keep track of the marginality of a particular transaction, goods or service.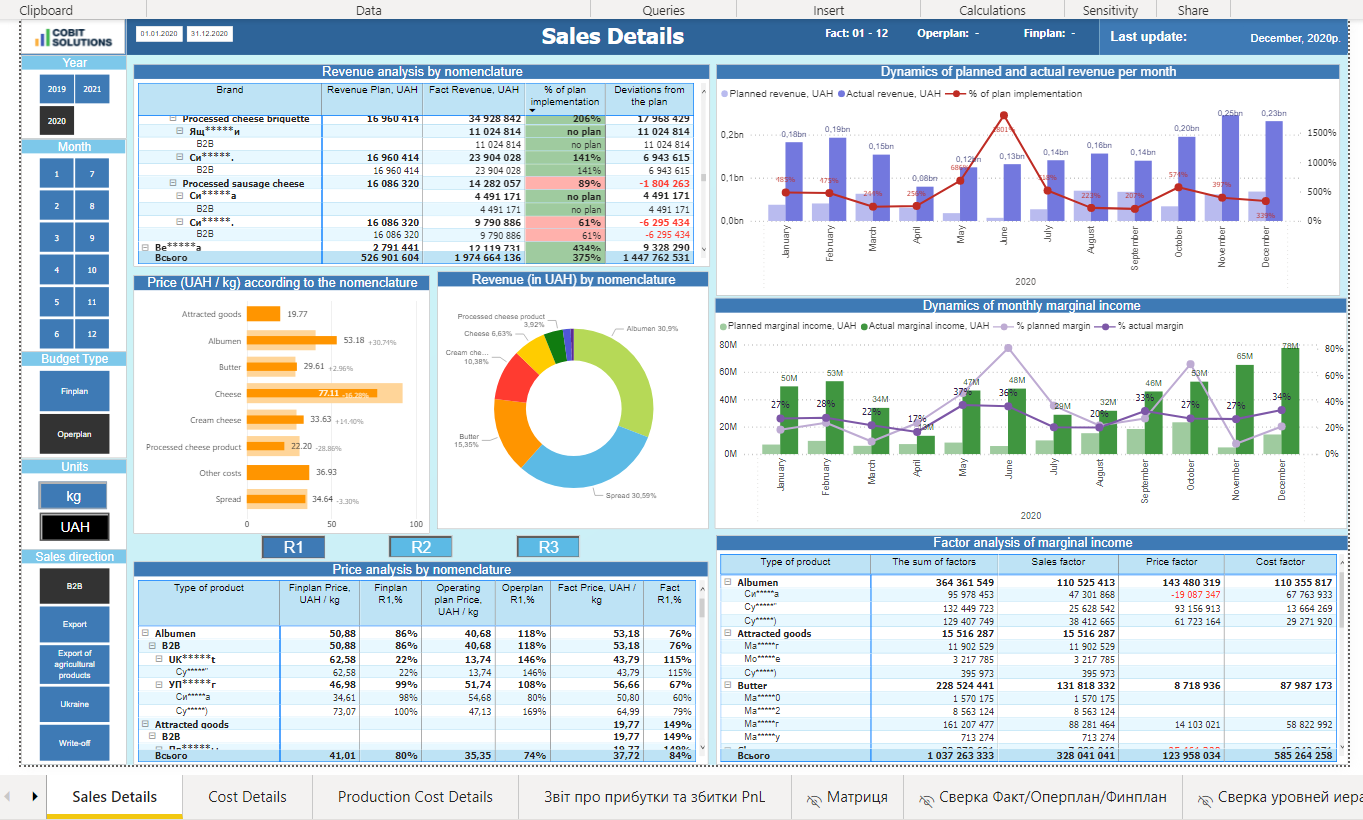 HOW BI INCREASES THE PROFIT
Opting for Power BI allows you to control the income, production cost, margin, and gross profit every day, without having to wait for the monthly "summarization" of reporting. 
Eventually, regular control results in an increase in profit and growth of your business. 
 If you are interested in the possibility of configuring interactive reporting, please contact us.