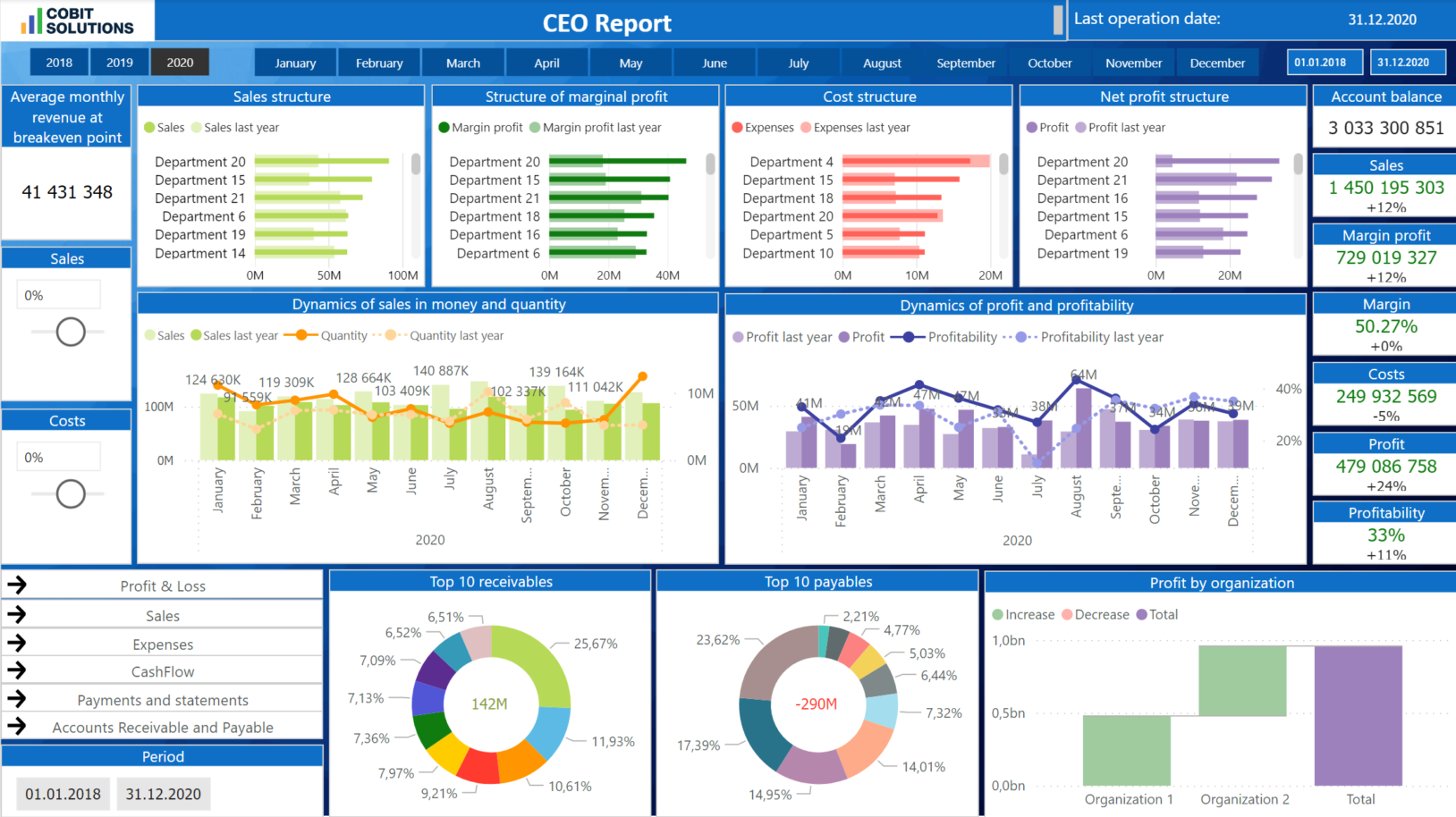 A crisis is not about new possibilities and obstacles the overcoming of which will make us and our businesses stronger and more competitive. Let's take off our rose-tinted glasses.
A crisis is about optimization and about concentration of resources on the instruments that will help the business survive and achieve a growth in the future.
One of such business assistants is interactive reporting that helps control the situation every day in a comprehensible and visible form, detail the indicators to the maximum: for example, control the profit margin for a particular commodity item.
A service industry network case

of returned clients is disastrously little for a business to survive: the problem isn't the finances but the marketing
Let me note that clients came to Cobit Solutions with the task of 'saving the business' even before the crisis. What is behind this dramatic phrase? The owners and managers can see that the business isn't working in accordance with the financial model but can't find the disruption.
Here's an example.
A client from the service industry with 150 outlets all over the country.
At first glance, it's a perfect business, but there is no profit for some reason. We made 12 dashboards and found a failure only in one of them. The interactive report that saved the company was about client base segmentation and RFM analysis.
What we found out: the average number of visits was equal to 1.12 per client. Yes, that's right, only 12% of repeat clients. That is, the clients come just once, and never return. And this means that what the company must repair isn't the financial model but the customer care and marketing.
DOWNLOAD FREE LIST
of the main business indicators to control
What business dashboards can give a company
In the other cases, we found unobvious problems of the same type:
Of course we didn't. A few of our clients closed their businesses because they came to us too late. Identification of the problem with the aid of business dashboards couldn't change the situation. 
But that's a result too. An experienced businessman knows that sometimes you need to close the company in time, thus minimizing the loss, to suffer through it and to move on before it swallows all your assets and even your apartment and car. 
Don't hurry to cut down the expenses on the instruments that can help your business survive the crisis and achieve a growth in the future. 
If you are interested in an opportunity of setting up interactive reporting, please contact us. 
BUT THE MAIN POINT OF THE ANALYTICS IS
PROFIT GROWTH
Our dashboards give you a chance to control the revenue, cost price, margin, gross profiе and 47 other indicators on a daily basis. No need to wait for a monthly report.
Consistent control results in  profit growth and business expansion.