System and data analytics is necessary in numerous industries to manage the cash flows and performance of any medium-large and international business. All of them exist to make profit as a result of their activity. Though there are many economic factors that affect business success, system and data analytics are main points for the economic benefits.
The market is highly competitive in the insurance area. That's why all the game players strive to make the data and financial processes parsing faster and more efficiently. Here business analytics in insurance helps companies to win and manage their business towards the strategic goals. 
What is Insurance Data Analytics?
It is not a secret that every business collects and generates endless amounts of data from financial area, sales and services providing, advertising field, direct marketing and management. How to use this huge potential and see the correct numbers in time? 
Data analytics for insurance is the best tool to automate the control and activity management. Power BI implementation helps to see the weak and strong points, profits and plans, effectiveness of branches and shops, team performance and many other important factors and indicators for crucial decision making.
You may order commercial insurance analytics software for your specific company and every branch or service. Data analytics insurance dashboards are necessary for each decision maker for the fast and precise reports about the working activity state.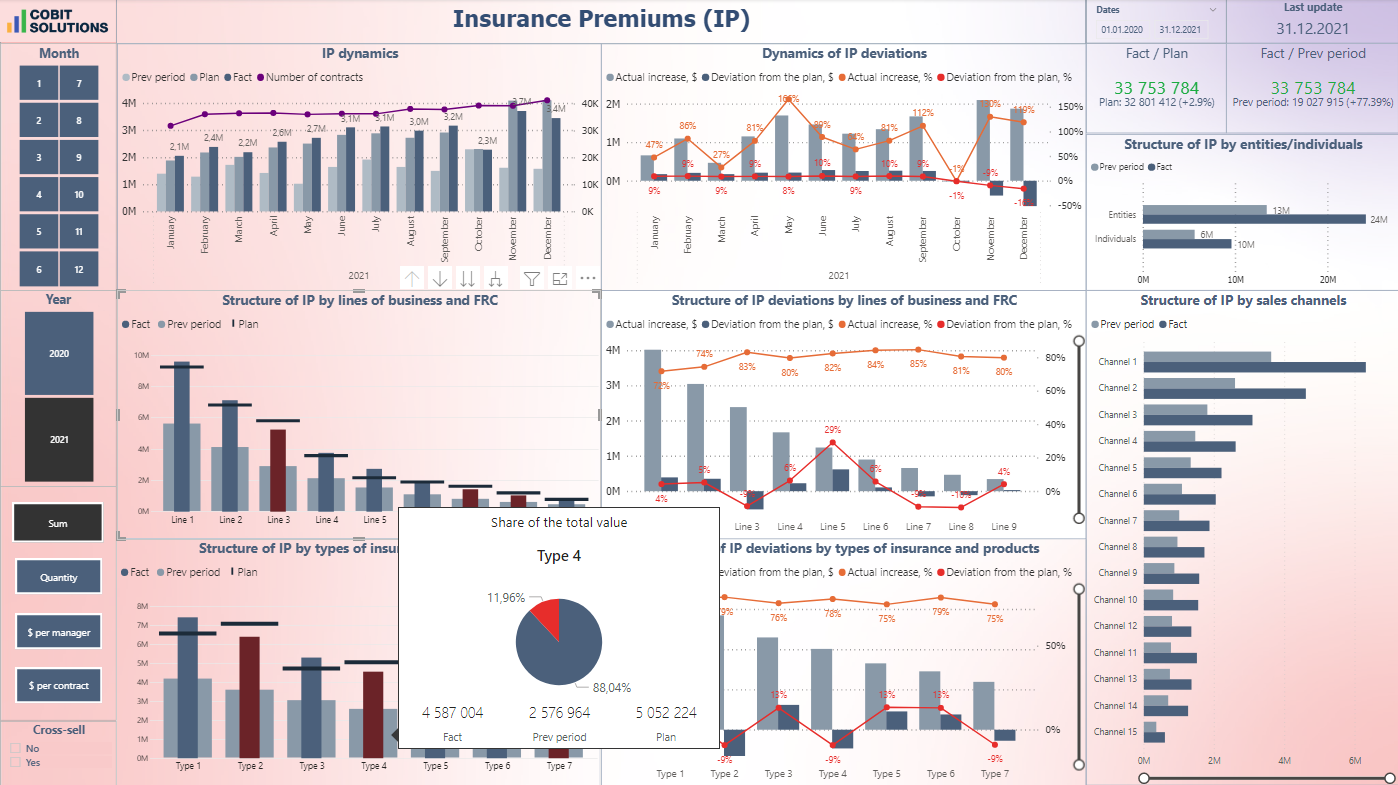 The Role of Data Analytics in Insurance
Insurance data analytics is your way to develop the business more comfortably and regulate the workflows according to the fast reports with interactive analytics.
In case the company decides to order insurance industry data analytics it should determine the most important indicators with critical meaning of the divisions and teams. Each department mostly provides special requests and number of dashboard owners, types of dashboards, etc.
The work includes the selection of the accounting systems for future BI for insurance integration and important results to reflect. Firstly, developers create a technical architecture diagram of the insurance data analytics solutions. The developing company specialists plan dashboards IT structure to analyze and each dashboard development schedule according to the priority. Later the system is created for testing and daily performance.
Data analytics in insurance sector systems are specially created with a number of unique insurance dashboards tailored for each department, set users and sources of information.
How Analytics and BI Benefit the Insurance Industry
Data analytics is a fast data-driven solution for the operational departments to get data-based decision making for risks.  Financial departments use insurance business analytics dashboards to calculate and reflect the tendencies, including future risks.
Business analytics in insurance systems are specified for the individual calculations of financial results according to the companys' mechanisms.  To sum it up, insurance data analytics automates the processes and optimizes management.
The additional benefits of data analytics software for insurance are  worldwide access because of the cloud BI technology and data security (2FA authentication) with confidentiality, providing access to dashboards from any device anytime the users need. In general, it is timesaving due to the handy management and search of the reported data.
More common use of business analytics in insurance enhanced companies to manage the risks and provide the insurance services and forecasts. It enforces the control over the situation in business and moving to strategic purposes.
Using Microsoft Power BI Platform dashboards clients can see the tendencies and influence on daily business and forget about hard making and time-consuming reports. Read about our business intelligence for insurance case.
Data analytics for insurance brokers gives additional advantages of insurance business intelligence solutions to offer more client oriented services, see the better options for customers and data-based decision making for risks. Business intelligence for insurance systems help companies employees not only to see their specialized dashboards each time when they access the cloud solution, but to organize and research their own results reflected in accordance with one another.
With data analytics businesses can optimize inventory management, identify cost-saving opportunities, and enhance customer satisfaction. Our clients  stated that implementing data analytics in their business processes witnessed a 30% improvement in overall effectiveness and a 25% raise of sales.
Comfort
See the tendencies and influence on business daily
Technologies
New reporting management systems tools are highly effective due to the Microsoft Power BI cloud solution. It enables data analytics for insurance companies everywhere and from any device with the Internet. While the system collects the valuable data treasures into calculated reports you can spend time on the working processes and just open the dashboard for the vital decisions making or check.
Innovative dashboard development services guarantee data security (2FA authentication) and confidentiality, providing access to business intelligence insurance dashboards from any device anytime the users need.
To unlock the full potential of your insurance operations and embrace the future of data-driven decision-making, explore the innovative services offered by Cobit Solutions. Specially tailored to clients' needs dashboards, data analytics solutions, and business intelligence tools provide a comprehensive platform for driving efficiency, improving quality, and achieving sustainable growth. Our professional developers and consultants have wide experience in 22 industries plus many cases with testimonials to see on the website.
Why choose Cobit Solutions?
We provide not only many years of expertise and extensive practical experience in planning and implementing data analytics projects but advanced services and solutions to overcome insurance challenges and propel your business forward.
Our solutions of business analytics to insurance business, dashboards, and business intelligence have revolutionized the industry, unlocking new opportunities for growth and efficiency.